Home >Technology >MHL Mobile High-Definition Link
MHL
 Mobile High-Definition Link


Overview of MHLTM The MHL Consortium comprises of Nokia Corporation, Samsung Electronics Co., Ltd., Silicon Image Inc., Sony Corporation, and Toshiba Corporation. The MHL specification is an HD video and digital audio interface for connecting mobile phones and portable devices to HDTVs and other home entertainment products. It utilizes established connectors and features a single cable with a 5-pin interface, supports 4K (Ultra HD) video and digital audio and simultaneously provides power to the mobile device. It also enables the TV remote to control the mobile phone and access its contents.
MHL technology is a low pin count HD audio and video interface that connects portable electronics devices such as mobile phones, digital cameras, camcorders and portable media players, to HDTVs. The technology allows mobile devices to output digital Ultra HD resolution via the existing mobile connector without the space requirement and cost of another dedicated video connector. Together with an MHL-to-HDMI® bridge, the MHL-enabled mobile device may become a fully compliant HDMI source and can connect to the television's standard HDMI input port.
How will consumers benefit from MHL technology?
Mobile devices are now a source of a tremendous amount of multimedia content, including captured high-resolution still images and HD videos, and downloaded feature-length Hollywood films. Unfortunately, when consumers connect these portable devices to an HDTV with an analog composite connection, the native high-definition picture is reduced to below standard definition with poor image quality. MHL technology-enabled devices, however, can connect to HDTVs allowing users to watch and listen to multimedia content on a large screen in its original pristine high-definition digital format.
Optimal mobile video solution needed
Today, mobile device connectivity can be accomplished via USB, WiFi and/or HDMI.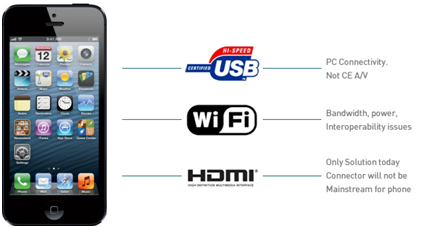 Optimal mobile video solution needed. USB is focused at PC connectivity, as the standard and interface does not have embedded base of audio/video CE device support. WIFi connectivity has its own challenges in bandwidth, power and interoperability. Therefore, it is not a common audio/video CE device connectivity option. Although HDMI is the only viable HD CE device connection option today, it is not a mainstream option for phones since HDMI requires a "second" connector and HDMI do not provide a back-channel powering option for charging phone batteries. Therefore, a new mobile connector specifically tailored to the challenges of mobile devices is required. This is the focus of the recently announced MHL standard and consortium.
An emerging new Smartphone audio/video connectivity standard and specification has been recently announced by the MHL™ (Mobile High-Definition Link) Consortium.
The long-term strategy of MHL is a simple passive connection between a mobile device components.

Key Features
Brings games, photos, videos, and all your mobile apps to the big screen
Simultaneously charges your phone while you're connected, so you'll never be interrupted by a dead battery
Transmits uncompressed HD video up to 1080p/60 and 7.1 channel surround sound
Let you connect to a rapidly expanding universe of MHL-enabled products, from TVs and AVRs to streaming media sticks, specialized docking stations, and more
Connector-agnostic, low pin-count interface allows mobile devices to maintain their small form factor and keep implementation costs low
Supports HDCP technology for viewing protected digital content
Visit www.mhlconsortium.org for more information.