Home >Technology > FA Failure Analysis

Overview of Failure Analysis iST(Integrated Service Technology, Inc) provides complete Focus Ion Bean Circuit Edit and Failure Analysis services from component level to module and system level. iST is the nation's finest laboratory and expertized with a widespread of professional failure analysis service.
Feature
Provide necessary equipment and resource for carrying out IC component failure analysis, electrical failure analysis, physical failure analysis

Provide one-stop analysis services
Provide third party report
Post-test failure analyses for ESD / latch-up / OLT / precondition / reliability tests
Analytic services on RMA samples, and defect products
Sample analysis after C/P, F/T or PCBA
Service Scope
FIB Circuit Edit

CAD Probe Pads/ Debug

Backside FIB Circuit Edit

WLCSP FIB

Non-destructive Analysis

Defect Detection

Electronical Characteristics Measuement

Reverse Engineering

IC Decapsulation

Ion Beam Cross-section Polisher

IC Delayer Process

IC Backside Polishing

Cross-section Inspection

Quick-term Assembly
Service Scope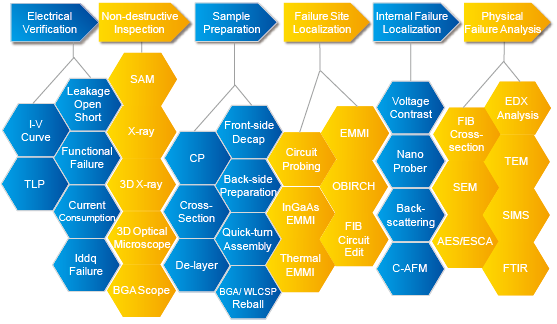 Visit www.istgroup.com for more information.